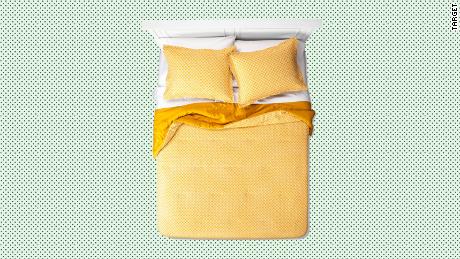 Story highlights
Science says yellow and green home decor can help to make you happier when spending time at home.
No matter where your home décor preferences lie, there are certain colors that you may want to consider using as accents around the home, because they can actually help boost your mood and make you happier.
Turns out, those colors that can encourage positive emotions are yellow and green — and there is scientific evidence to back it up.
According to research done at the Vrije Universiteit in Amsterdam, Netherlands, one study showed that adults felt happier when in the presence of yellow and green. Since these two colors remind us of sunshine and grassy green fields, we're not surprised at these findings. After all,studies suggest that spending time in nature helps to fight depression.
If you're looking for ways to create positive vibes in your living quarters (and honestly, who isn't?), we'd recommend adding yellow and green accent pieces. To get you started, we pulled stylish home items in these happy colors from a few of our favorite brands and retailers. We made sure to choose from reputable brands and retailers with positive user reviews and ratings to help ensure you're satisfied with your purchase. Happy shopping!